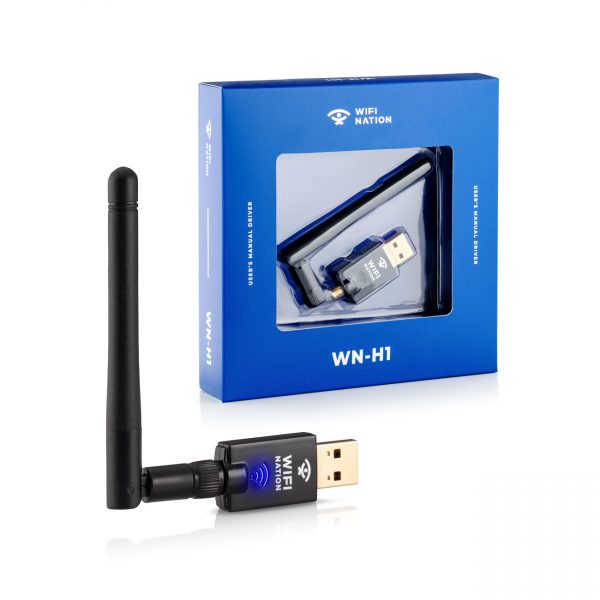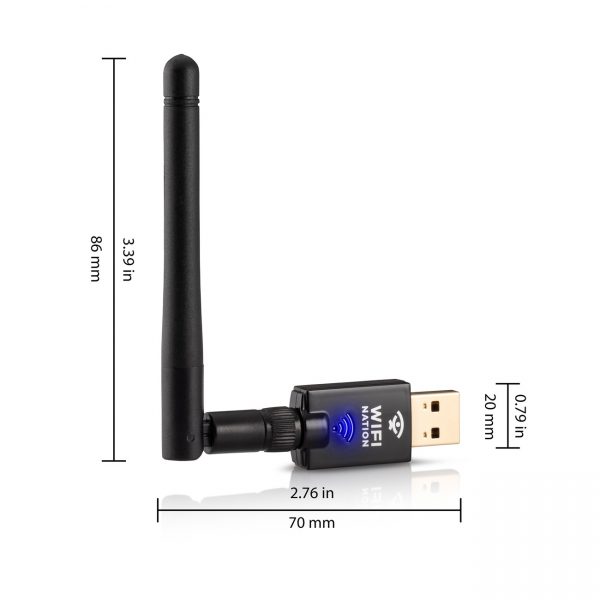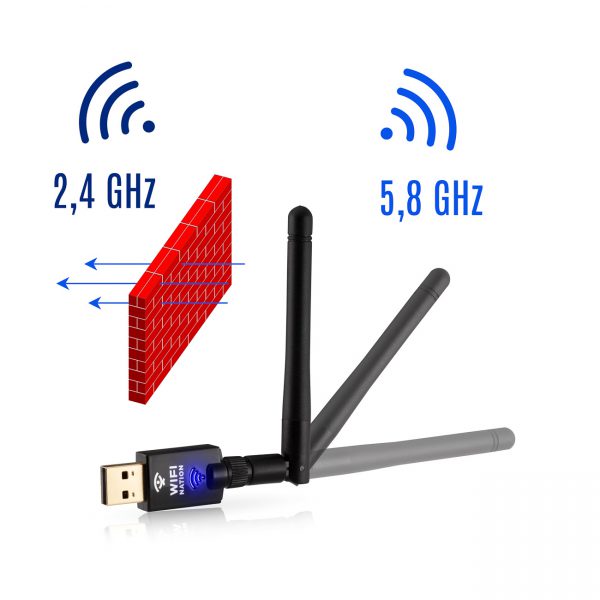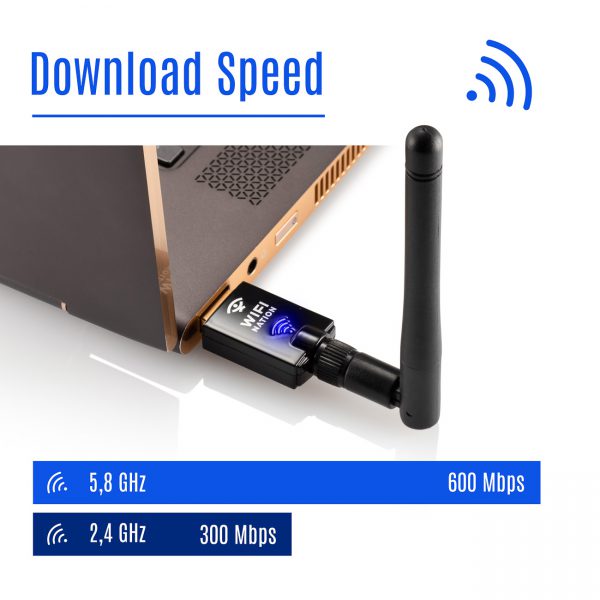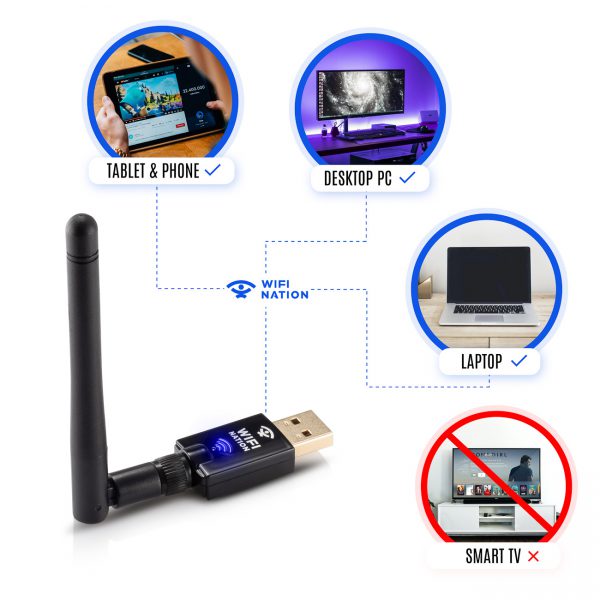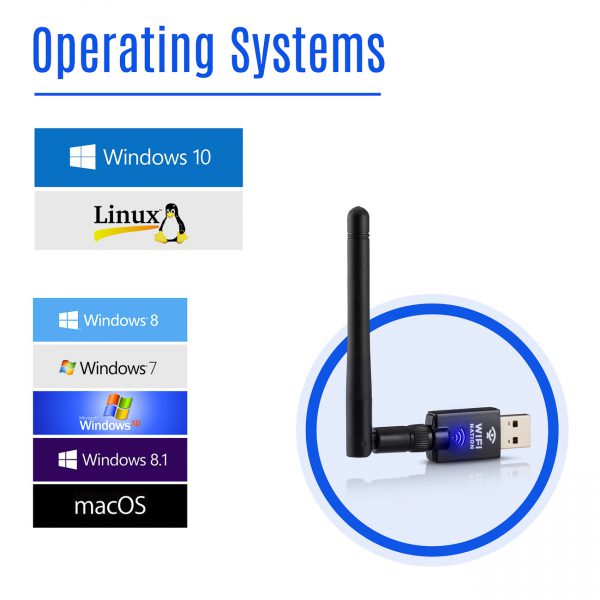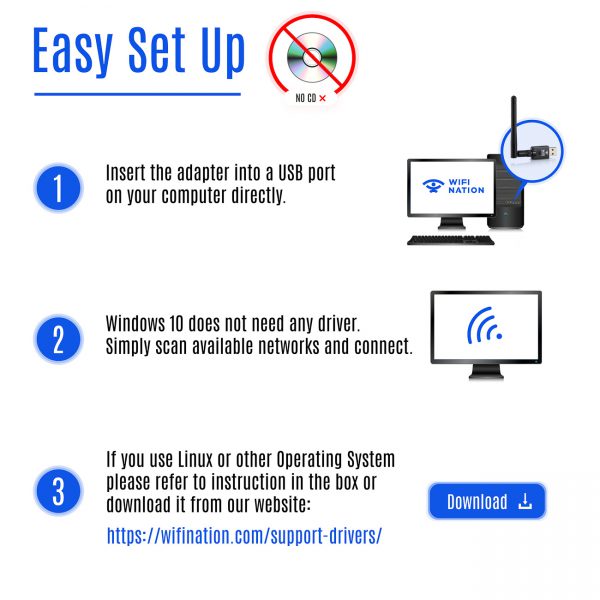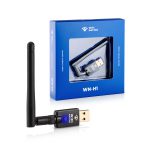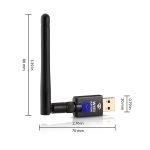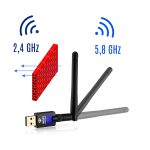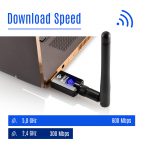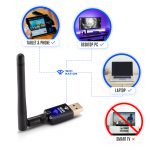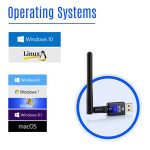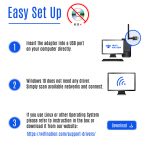 WiFi Nation 802.11ac AC600 USB WiFi Adapter with 2dBi Antenna
£24.97
Description
Specification
Reviews (0)
Description
✔️IMPROVE SPEED & COVERAGE – The WiFi dongle, its 2dBi Antenna boosts your current wifi connection.
✔️ IMPROVE YOUR SPEED! – Perfect if your PC didn't come with built-in Wi-Fi or even if it did but you're finding it too slow. The dual-band USB Wi-Fi Adapter will help you to improve the range and speed of your connection. Whether you are working on a laptop or desktop you will no longer have to worry about Wi-Fi performance. 
✔️FOR BUSY OFFICES – The usb wifi dongle, equipped in RTL8811AU chipset gives reliable connectivity.
✔️SUPPORTED OS – The WiFi dongle supports: Windows XP, Vista, 7, 8/8.1, 10, MacOS, Linux
Improve the speed, range and power of your existing WiFi connection with our premium WN-H1 WiFi antenna. Simply placed in the USB port of your device. It makes use of Realtek RTL8811AU technology to super-charge your wireless internet connection.
There is nothing more frustrating than lagging connection times or poor service. That is why our WiFi adapter works to improve your network access. You will have excellent signal even if other people are using their devices in the same building.
Speeding Through the Web
Conforming to the very latest internet standards, IEEE 802.11ac, this WiFi adaptor will enable your wireless connection to work at outstanding data transfer speeds. Ideal for those who like to stream movies or play online games, this clever device will ensure there is no frustrating buffering time or lagging mid-game. Watch films from start-to-finish in stunning HD quality, as if you were viewing them in the cinema or on your TV.
This outstanding WiFi adapter will increase your frequencies up to 433 Mbps on Wireless-AC 5 GHz band or up to 150 Mbps speed on Wireless-N 2.4 GHz band. These speeds far surpass those of most providers, even in high-traffic wireless areas.
WiFi to Every Corner of Your Home or Office
Extending the range of your current wireless signal, this smart WiFi antenna will reach every corner of your home, so that you don't have to resort to purchasing another WIFi box or package. Making use of high-gain antennas and WiFi optimisation, this device is able to provide impressive coverage. Powerful enough to reach through walls and external structures, there will no longer be any WiFi dead spots within the building, so that you get superior internet quality wherever you may be.
Such extraordinary abilities need protecting, so we have included high-octane security standards with this WiFi adapter. Taking advantage of 128-bit encryption standards, protocols include WEP, WPA, WPA2, WPA Mixed, and WPS, so that there is no chance of a security breach.
CD-DVD hustle free
If you do not have CD/DVD drive in your PC or a laptop any more it is not a problem.
All the drivers are in the Internet and you can downloading them directly from our website.
Simply do a search by the model number.
Chipset
Realtek RTL8811AU
WiFi Standards
IEEE 802.11ac/a/b/g/n
WiFi Frequency
Dual Band 2.4GHz or 5GHz
Antenna Connector
RP-SMA female x 1
Antenna Type
2.4G/5GHz Dual-Band 2dBi dipole antenna
Wireless Performance
802.11a: up to 54Mbps

802.11b: up to 11Mbps

802.11g: up to 54Mbps

802.11n: up to 150Mbps

802.11ac: up to 433Mbps

Wireless Security
WEP, WPA, WPA2, WPA Mixed, WPS
Communication
USB 2.0, type A, male connector
Interface
WEP, WPA, WPA2, WPA Mixed, WPS
OS Requirement
Windows XP, Vista, 7, 8/8.1 and Windows 10 32/64bit,

macOS 10.5 to 10.14 or later

Linux