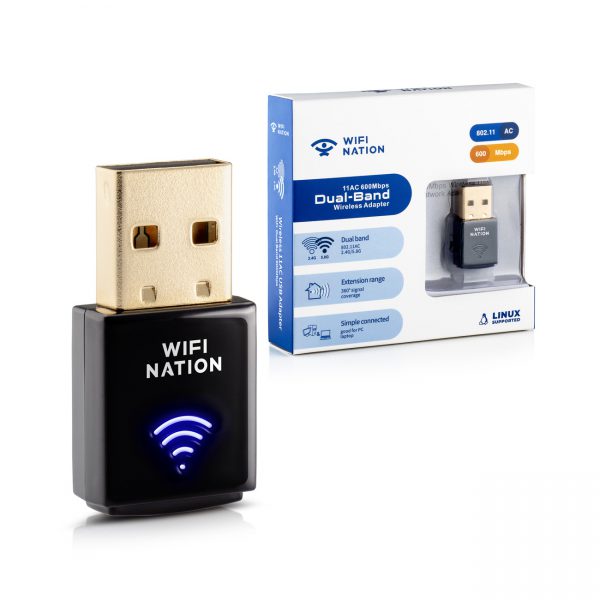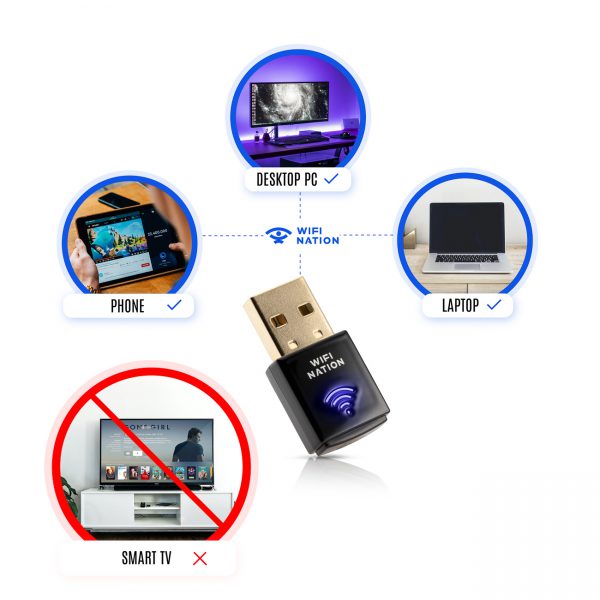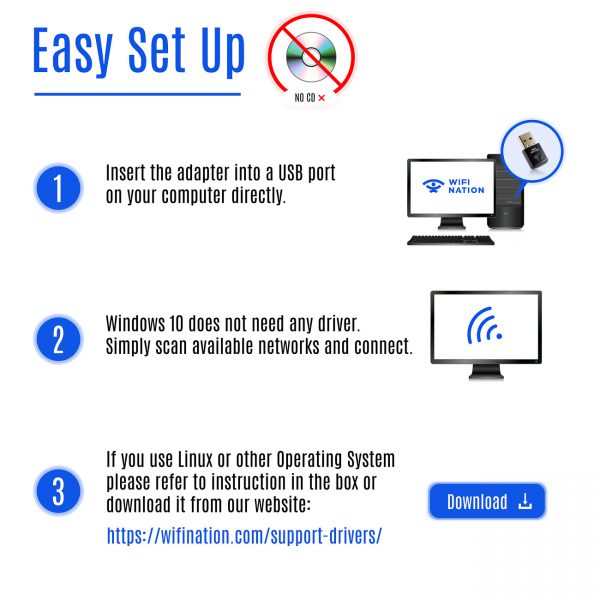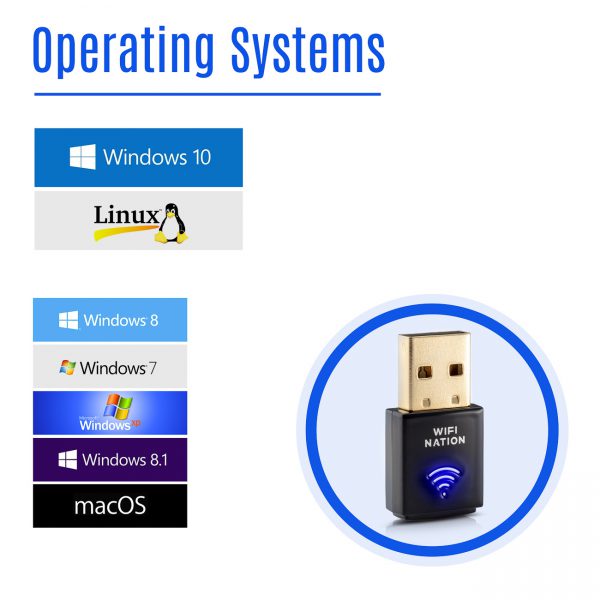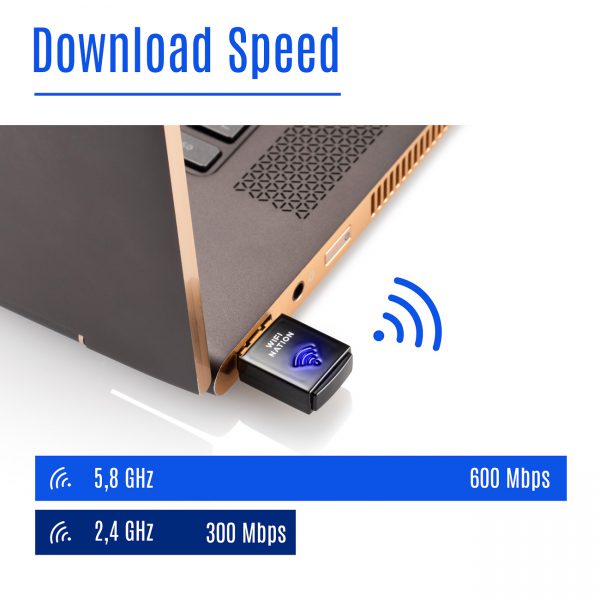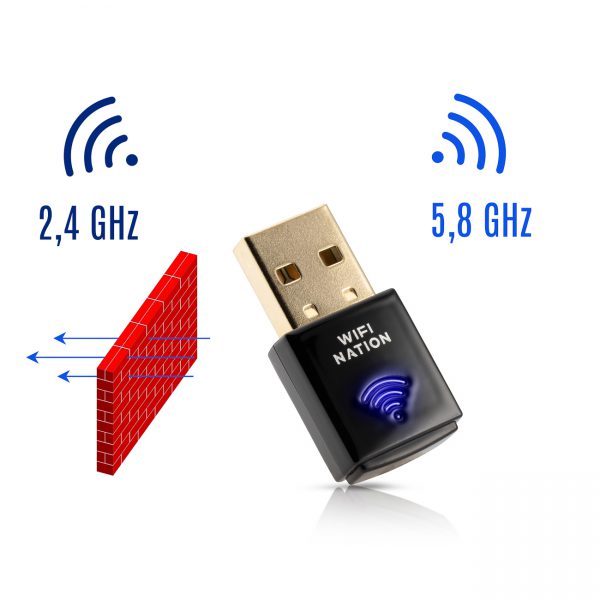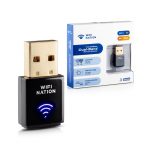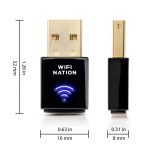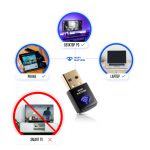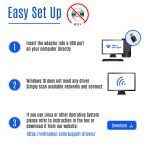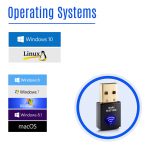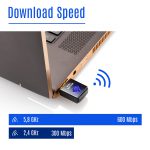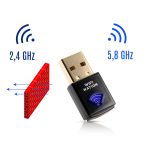 WiFi Nation mini 802.11ac AC600 USB adapter
£21.97
Description
✔️ GET CONNECTED! – A wifi dongle helps you connect wirelessly to networks, even if your device doesn't have a wireless network card. If you would rather not have cables trailing across your house, or if you simply prefer the freedom that wireless offers the Wi-Fi Nation USB adapter is the answer to your prayers.
✔️ IMPROVE YOUR SPEED! – Perfect if your PC didn't come with built-in Wi-Fi or even if it did but you're finding it too slow. Our clever dual-band USB Wi-Fi adapter helps to improve the range and speed of your connection. Whether you are working from a laptop or desktop computer you will no longer have to worry about dips in Wi-Fi performance. Prevent that fed up feeling you get when you disconnect part way through a tournament or game.
✔️ BANISH BUFFERING! – Buffering will be a thing of the past when streaming movies and online game play will be smoother and more reliable. Prevent those annoying connection drops and save a whole lot of frustration.
✔️ SUPER EASY TO SET UP! – Installation takes just a few moments using USB Wi-Fi technology, cut down on cord clutter with ease. Compatible with dual-band 2.4GHz or 5GHz.
✔️ HUGE COMPATIBILITY! – Works with Windows XP, Vista, 7, 8/8.1 and Windows 10 32/64bit, macOS 10.5 to 10.14 or later Linux, most distros. including Linux KALI, IT IS NOT
✔️ SUITABLE FOR SMART TV, TV box, Printer, Projector, – please contact our support in case of problems.
Power-Up Your Wi-Fi Connection:
Power-Up Your Wi-Fi Connection: Install our small but smart Wi-Fi adapter and experience improved range of connection on your desktop computer or laptop, allowing you more freedom of movement within your home or business. Our clever Wi-Fi dongle also helps with lagging connection speeds, so that you no longer have to deal with dips in service or slow download times.
This powerful device might look innocent enough, but it will super-charge your Wi-Fi so that it is better than ever.
Super-Fast Wireless Speed:
Experience the full speed of connectivity as promised by your provider with the addition of this simple, compact USB Wi-Fi tool. Depending on your server, you can use our wireless adapter to reach speeds of up to 430 Mbps speed on Wireless-AC 5 GHz band or up to 150 Mbps speed on Wireless-N 2.4 GHz band.
This USB wireless adapter is an essential computer accessory for those that enjoy online game play or streaming HD movies through the internet. With highly reduced downtime and super-fast download speeds, your games and films will be smooth and free from lagging, buffering and delays in transmission, even if similar Wi-Fi demands are being placed on one router from more than one source within the building.
Install and Use with Ease:
Your new dual-band Wi-Fi dongle is incredibly easy to install. It comes complete with an installation CD with step-by-step instructions that take all the guesswork out of the setting-up process. In just a few moments, you can be enjoying greater Wi-Fi connectivity from your wireless router or access point, making full use of the WPS (Wi-Fi protected setup).
This Wi-Fi adapter has been primed for use with most modern systems and is compatible with various wireless standards, including Wireless-A (802.11a), Wireless-B (802.11b), Wireless-G, N and Wireless-AC (802.11ac)
CD-DVD hustle free
If you do not have CD/DVD drive in your PC or a laptop any more it is not a problem.
All the drivers are in the Internet and you can downloading them directly from our website.
Simply do a search by the model number.