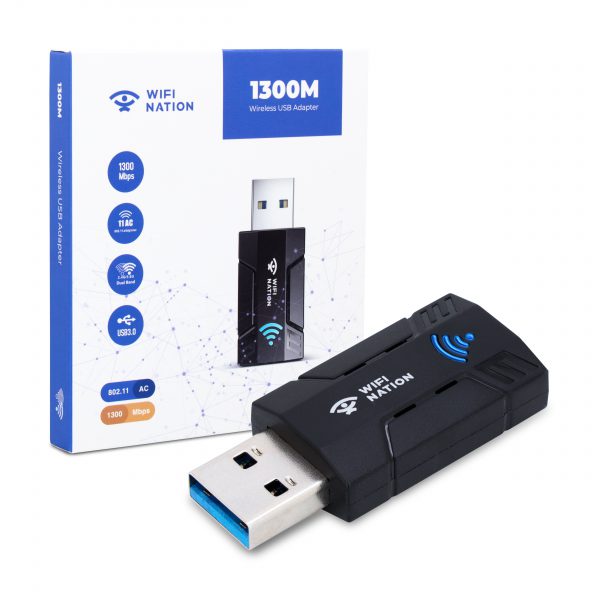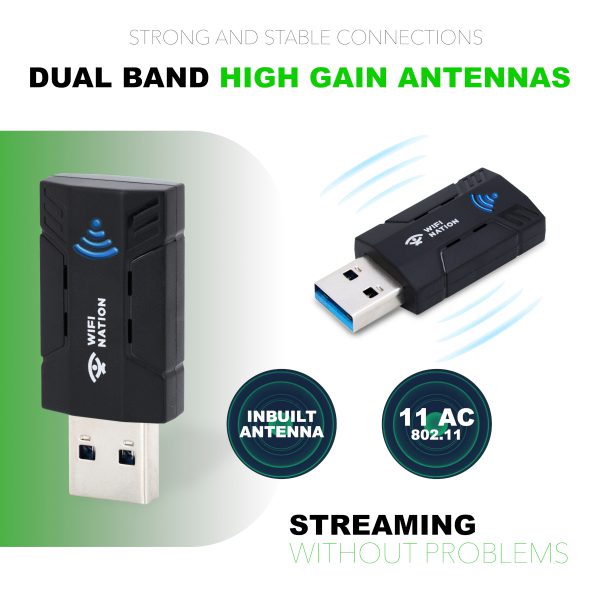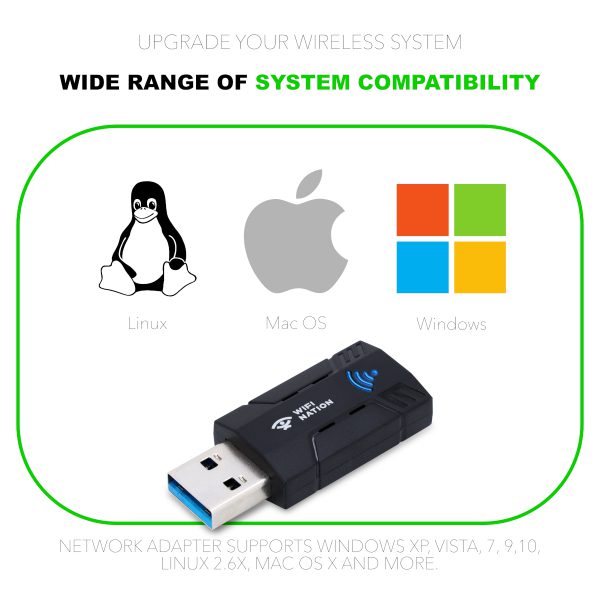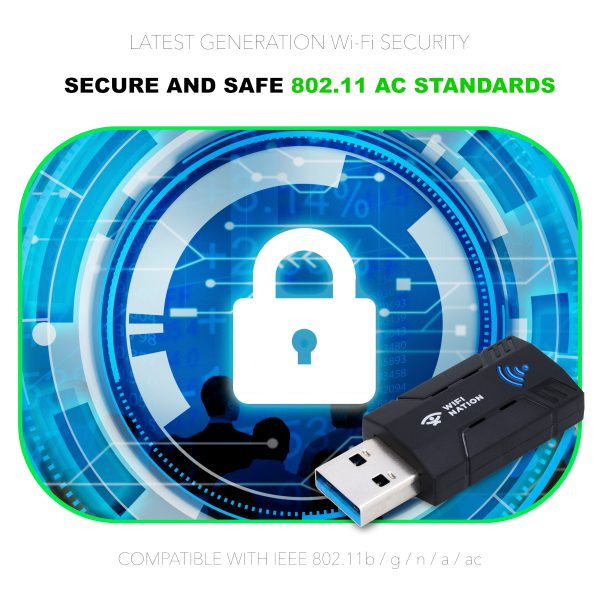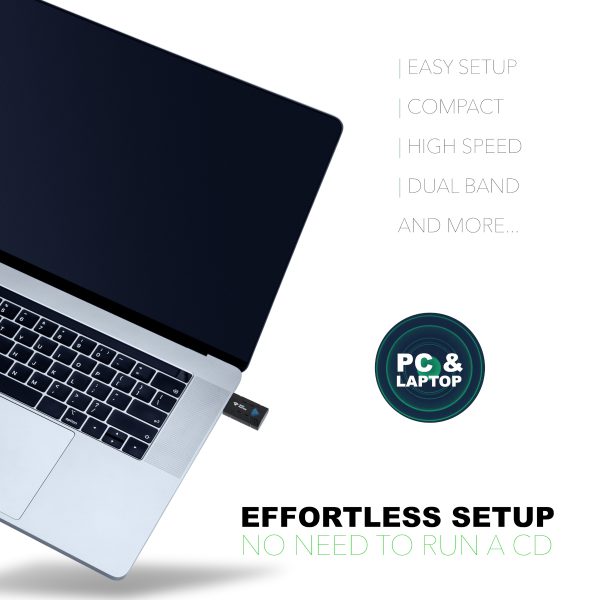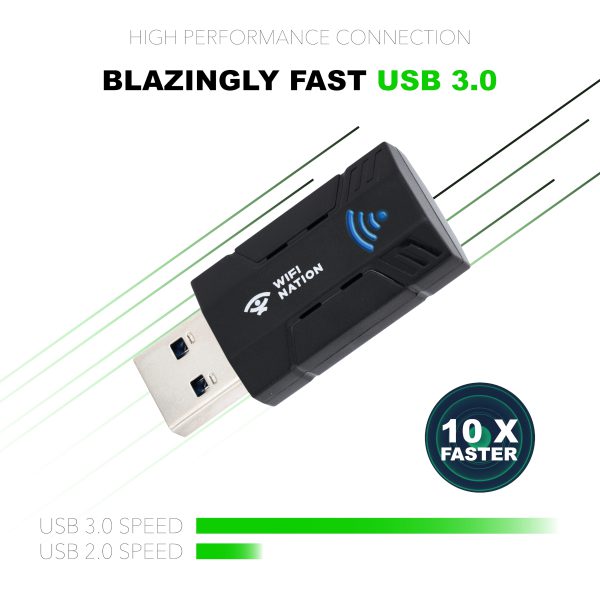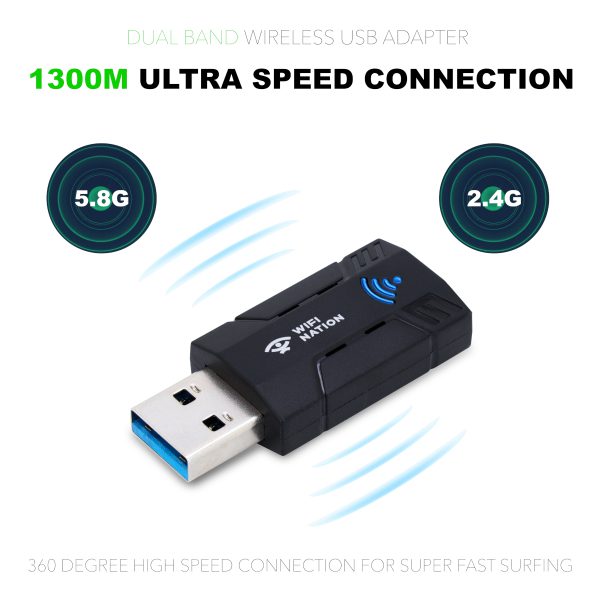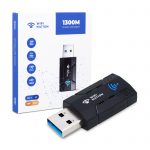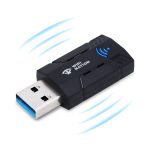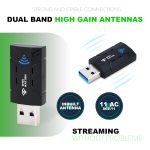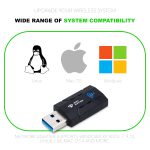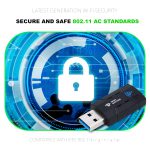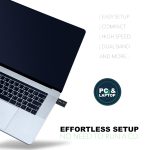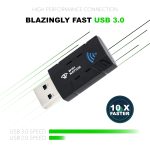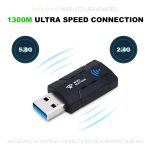 WiFi Nation® WiFi Dongle 1300Mbps WiFi Adapter 2.4G/5G Dual Band Mini USB 3.0 802.11ac Wireless Network Adapter for PC Desktop Laptop Windows MacOS & Most of Linux Distros
£28.97
Description
? 1300 Mbps ULTRA HIGH SPEED & DUAL BAND WIRELESS& ➸ Up to 1300Mbps, 867Mbps(5GHz) + 400Mbps(2.4GHz), 802.11AC wifi transmission standard, the internal high-gain antennas for increased wifi coverage and stability. The wireless adapter supports dual bands which can effectively avoid wireless interference and network congestion. The 5 GHz band is ideal for HD streaming and lag-free online gaming; the 2.4 GHz band is perfect for normal use, such as web surfing with legacy devices.
? USB 3.0 SUPER FAST TRANSFER RATES & MU-MIMO Technology ➸ USB 3.0 supports transfer rates of up to 5Gbps-10 times faster than USB 2.0, ensures USB wireless network adapter maximum throughput performance and more stable internet connection, backward compatible with USB 2.0 and USB 1.1 too. Multi-user mimo ensures more devices process data simultaneously, no more delay in sequence.
? BEAMFORMING & SOFT – AP& ➸ Beamforming technology smartly focuses wi-fi signals towards connected devices for stable connections and a boosted range. Just switch to AP mode, then it can create a hotspot to share wifi, let your mobile phone, laptop, iPad and other devices receive wifi.
? PORTABLE & GREAT COMPATIBILITY ➸ The usb wireless network adapter works with Windows XP/Vista/7/8/8.1 and Windows 10 32/64bit, Mac OS 10.6-10.14  or later Linux, most distros It is not suitable for Smart TV, TV Box, Printer, Projector.
? EASY TO INSTALL ➸ Install your adapter easily by plugging into your desktop or a Laptop. Provide freedom, you can move desktops anywhere with a WIFI connection. Compact and lightweight design makes this Wifi Adapter very easy to carry with you, and you can leave it in your Laptop or PC and no need to remove. You can download the driver if needed from our Website, then plug the adapter into your pc/laptop, next it will receive wifi signal from your router.
Do you want to watch HD videos at home and play online games without delay the wifi? Say Goodbye to Wi-fi Dead Zones – You shouldn't have to put up with slow internet speeds at home thanks to Wifi Nation USB Wifi Adaptor offering 867Mbps over 5GHz or 400Mbps over 2.4GHz for online gaming and HD video streaming with lag free experience. With good coverage, feel free to surf from your bedroom porch or garage.
? Latest 802.11AC The Realtek RTL8812BU-CG is a highly integrated single-chip that supports 2-stream 802.11ac solutions with Multi-user MIMO, which ensures more devices process data simultaneously, no more delay in sequence.
? Dual Band Wireless Speeds Wi-Fi speed up to 1300Mbps on 5GHz (867Mbps) or 2.4GHz (400Mbps) bands, performance to reduce freeze and delays when played back continuous and games. The 2.4GHz and 5GHz band for flexible connectivity, upgrades your devices to work with the latest dual-band Wi-Fi router for faster speed and extended range.
? AP Mode AP Analog function, your computer as a router Wi-Fi signal transmitted to achieve Wi-Fi sharing, your iPad, your phone can connect with the WLAN connection. Create a Hot spot with the Soft AP Function for more wifi devices.
? Powerful Compatibility Compatible with Windows XP/VISTA/7/8/8.1, Windows 10 32/64 bit Mac Os 10.5 to 10.14 or later Linux, most distros. It is NOT suitable for Smart TV, Tv box, Printer, Projector.
The compact and compact design make the USB wireless adapter easy to carry for all mobile users.
//partnershipforcoastalwatersheds.org/local_tide_heightmap Inclusive of:
1* Mini USB Wifi Adaptor
1* User Manual
Easy Installation
1. Plug the wifi adapter into the USB port of your PC/Laptop.
2. Wait till your system installs its driver. (you can find drivers for other OS on our website)
3. After its installed, scan for the available networks and connect to it.